It all started about 15 years ago, with a simple little Brinkmann electric "Smoke n Grill" smoker…….
I learned to a lot of the basics on this 15+ year old electric cooker.  Chicken, pork tenderloin, ribs, pork butt, turkey, fish and many other tasty morsels, known and loved by the world as BBQ.  When it all started, I would cook on this gem several days a month and then put it in the garage, where sometimes it would sit for months without being touched.  It wasn't until I discovered all the available information sharing that was going on within the smoking-meat.com forums, that I learned how to make this thing really cook some decent BBQ.  I found out pretty quickly that I was seriously missing out on some important information!  Home made rubs, recipe ideas, tips, tricks and most of all – smoker MODS and build ideas!  When I discovered all the wholesome goodness that was going on within these forums, I jumped on board and was all-in.  Though I still have this dainty little relic of a smoker and have rebuilt it twice, it's still a good stand-by cooker.
When I realized I needed more space to cook on, I bought my second smoker.  With a serious budget constraint, but a strong desire to bring my BBQ to the next level,  I bought a Brinkmann "Smoke n Pit".  My thinking: I not only could get more meat into the cooker, I could get more flavor out of a charcoal based cooker – all at a decent and budget-minded price.  On the first several cooks, I quickly learned that this thing had a mind of its own and was quite possibly, possessed!  Thin metal, runaway heat, sudden drops into sub-200 degree temperatures,  a totally inaccurate temperature gauge.  The list of disappointments goes on.  I quickly learned why this cooker is referred to as the "ECB" on the forums. (El-cheapo Brinkmann)  I relied heavily on the forums for their modification ideas for distributing the temperature evenly across the cooking area, how to stabilize the cook temps and any other advantages I could find to get past all these very frustrating challenges.  I initially tried the typical mods of a heat baffle plate as well as door seals and smokestack extensions.  Though they helped a little, but it never really stopped the real issue:  thin metal and poor engineering.  To combat this ever-changing temperature issue, I installed a propane turkey fryer head in the firebox to not only help light the charcoal and wood chips, but also to keep the temp from dropping.  This served to be a great option to regulate the smoker's temperature, my cook reliability and the benefit of my new found flavors was also an improvement.
I was fortunate enough to get my first taste of using a heavy duty smoker on a trip to the Florida Keys in November of 2012.  I brought my small electric smoker to enjoy a few racks of ribs while on vacation, but fate would make a turn in my plans.  When I plugged in the electric smoker to heat up the cooker, it decided to violently explode and leave me with no way to cook all the meat I brought.  I had noticed that the house across the street had a nice heavy trailer smoker and I had admired it since the first day we arrived, but I was a little reluctant to see if he would allow me to use it.  When I saw the neighbor was outside in his yard, I gathered up some courage and walked over to his place, with two cold beers in my hand and started explaining my dilemma.  I offered him the choice of one slab of ribs or a six pack of his choice in exchange for use of his smoker.  He smiled and said he would be glad to let me use the smoker with nothing expected in return.  At this point, I had to inform him that I had never used a true stick burner and needed some training, so he said with a grin that it was no problem and to run to the store and pickup a large bag of charcoal to get the fire started.  He explained that he was a lazy fire starter and likes to use a bag of charcoal to start the fire.  I went to the local Winn-Dixie and they had a BOGO sale on bags of charcoal! Feeling like my luck had started to turn, I grabbed two bags of charcoal, tossed them into the cart, grabbed an extra 12-pack of my favorite beer to share, then headed for the register.  About an hour later, the smoker was heated up and the meat hit the expanded metal to cook for a few hours.  Needless to say, when the food was finished, all the ribs  that were cooked ended up on his picnic table and our two families sat and enjoyed it together.  Not only had I secured a new friend, we feasted on the best ribs I had ever prepared!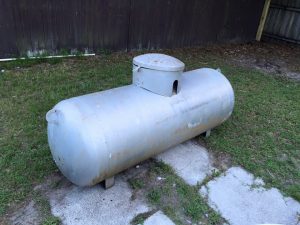 Since that day, I often dreamed about building my own smoker out of a large propane cylinder.  After several years of waiting to acquire the funds for the project, I was able to secure a 120 gallon propane cylinder from a sale post on one of the Facebook yard sale sites.  I was able to negotiate a delivered price of $50 for a 120 gallon cylinder that was sitting on a man's property that had just been sold and this tank needed to be disposed of ASAP.  I was happy to take it off his hands!  The tank sat in my back yard for almost a year, waiting to be converted into a cooker, while I invested a lot of time into planning my build.  I was searching BBQ forums, professional smoker sales sites, google images, YouTube and a load of other resources until I felt I had enough information to be able to begin the project.  In the middle of 2016, my daughter announced her engagement to her fiance` and they asked if I would consider cooking for their southern style wedding.  Cook a ton of BBQ for a wedding you ask?  Have a perfect reason to start my smoker project?  Heck yes, I'm all in!  After the excitement settled into my brain, I soon realized that I had from the end of July 2016 until February 2017 to not only build (or worst case:  rent/buy) a suitable smoker to be able to feed about 125 people, but learn to control this beast and perfect my cooking skills on a much larger scale.  With that plan in place, I kick started the build and gathered all the materials to start building this beast with my own two hands:  the reverse-flow smoker of my dreams.  I was able to quickly secure a trailer and a lot of the steel necessary to fabricate the smoker, along with several key pieces of material I had been collecting to complete the build.  I picked up a small used 4 x 6 trailer for only $275 on Craigslist and the expanded metal used as the flooring for it was wire brushed and welded onto the lower cooking grate frames.  The cooking grate's square tube frames were made from several clothing racks I found in a dumpster at a storage unit facility that someone had tossed.  There was more than I could utilize in the dumpster, but I gathered enough of it that it was a substantial savings in box-tube steel for my build.  The top rack was made from the same box tube, but instead of using mixed pieces of expanded metal, I reused several grill grates and cut them down to fit.  A lot of the angle iron used for the tank frame supports, cooking grate supports and the firebox wood stand was made from cut bed frames, saving a lot of money on raw angle iron.  The only drawback to re-purposing used steel was that all the bed frame and clothing racks were powder coated and would need to be sanded with a flap disc, adding time to the build.  For the smoke stack, I bought a used chrome exhaust stack from an 18-wheeler and welded it on,  it looks really cool for a mere $30 price tag.  Five weeks later and after the seasoning process was completed, the infamous smoker was painted and ready for the first cook.  I paid really close attention to the way the smoker behaved while performing the very crucial seasoning process.  I was quite pleased with the results and soon realized just how successful this build was.  Bringing the smoker up to cooking temp and how well it was holding that 250 degree temperature, it was like pure magic!
For the first cook, we only cooked the basics – chicken and some jalapeno poppers to give it a test run.  I had almost no issues with heat control and realized just how much easier cooking was on a big rig compared to the old ECB.  In a smoker made from mostly 1/4″ steel instead of a thin metal, store bought smoker, it was surprisingly easy to control and predict.  It is an unbelievable experience to be able to build something of this caliber and have it cook so well.  The second cook was my first big test, cooking for the wedding engagement party for about 35 to 40 people.  On that day, I prepared a couple racks of ribs, about 20 lbs of smoked chicken thighs and quarters, a stuffed pork tenderloin, about 40 stuffed bacon wrapped jalapenos and a tray of bacon wrapped scallops.  In a nutshell, everything turned out AMAZING!  For anyone who has ever dreamed of making their own smoker and is good with their hands and creativity, I highly encourage it.  It is truly an experience I will never forget.  With the engagement party behind us, it was just a few weeks until the wedding and I was  still running the new smoker almost every week in prep for the big day.  I wanted everything to go smoothly.  Cooking for 125 people was much more exposure than my typical backyard BBQ experience had ever seen before.  I knew I needed to make this cook perfect.  To ensure the cook went as planned, I did a lot of research and discovered the magic of BBQ Guru's CyberQ.  To learn more about this wonderful device, click the Guru link in the menu and learn just how cool this device really is.
Pics to enjoy:
I hope you enjoy the build video, I want it to be not only an inspiration for others, but a source of valuable information to help with their builds as well!